Home Page
->
Annual Conferences
->
Previous Conferences
-> 2006 Annual Conference, Danville
2006 Annual Conference, Danville
September 21, 2006 - September 23, 2006
City of Danville
Photos from the 2008 Conference
Video of the Event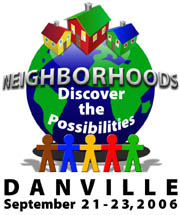 Communities from throughout the Commonwealth of Virginia gathered in Danville to attend the 7th Annual Virginia Statewide Neighborhood Conference September 21-23, 2006 at the state-of-the-art Institute for Advanced Learning and Research Conference Center.
From arrival until closing ceremonies, over 300 participants were treated with great networking opportunities, interactive workshops, thought provoking speakers, a host of exhibitions, and wonderful tours of the city. The conference's theme, Neighborhoods: Discover the Possibilities, was carried throughout the conference.
The City of Danville hosted a Welcoming Reception with a BBQ dinner on Thursday evening with icebreakers at its Community Market. Both the youth and the adults enjoyed the venue.
Friday morning's opening session began with Captain Tony Torres as keynote speaker talking about the celebration of diversity among the generations. A good time was had by all.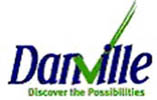 Morning and afternoon jam-packed, interactive, informative workshops addressed such issues as Gang Awareness, Youth Making A Difference, Collaborating to Design Great Communities, Affordability Matters! Emerging Trends in Housing, Fair Housing – It's the Law!, Got CERT?, Higher Education to Meet Neighborhood Needs, Making Our Community Better – Together!, Bridging the Gap to Our Future, and Leadership – What's Your Style?
Friday's luncheon included the awards ceremony for five different neighborhood categories. Winners were from throughout the state.
In the evening, the youth participated in a "Survivor" exercise while the adults enjoyed the ambiance of the renovated North Theatre with food, an art exhibit, a pianist, and a Duke Ellington musical.
Saturday morning, participates enjoyed one of the several tours offered. They could choose from four different tours: Historic Tobacco Warehouse Walking Tour, Seeland Crossing/HOPE VI Mixed Income Community, Historic Victorian Homes Walking Tour, and Rail days – community Market, Science Center, Train Station, and the Riverwalk Trail.
The keynote speaker for the luncheon, John Fisher, entertained us with our conference theme and the importance of our responsibilities. Closing ceremonies concluded the event with the passing of the banner to next year's host city, Chesapeake.
A few shared comments from the conference evaluations express the point that we have arrived in putting together a great opportunity for all of us to share local issues:
"The conference met many needs"
"Well organized and energized!"
"Great fellowship!"
"Meeting other agencies and sharing ideas to inspire us"
"Innovative, informative and enlightening and generated enthusiasm"