Home Page
->
Annual Conferences
->
Previous Conferences
-> 2005 Annual Conference, Norfolk
2005 Annual Conference, Norfolk
September 22, 2005 - September 24, 2005
City of Norfolk
Photos from 2005 Conference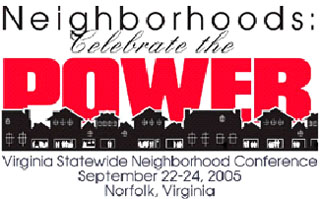 More than 430 citizens, including 50 Virginia youth, were in attendance at the 6th Annual Virginia Statewide Neighborhood Conference, "Neighborhoods: Celebrate the Power", September 22-24, 2005. The conference was hosted by the City of Norfolk, and held at the Sheraton Norfolk Waterside Hotel in the heart of the city's thriving downtown.
The conference featured 19 learning workshops and 7 mobile tours. Workshop topics included, "The Government's Role in Neighborhood Enhancement" and "Engaging Citizens for Safer Neighborhoods". Renowned author, Steven Covey's "7 Habits of Highly Effective People" teachings were applied to neighborhood building and offered as a workshop for the first time ever in "7 Habits of Highly Effective Neighborhoods". Also a first for conference, Housing and Urban Development (HUD) played an active role by offering two workshops, "How HUD Works" and "HUD Funds 101 – Show Me the Money!"
In addition to the wealth of knowledge offered through workshops and mobile tours, the conference touted nationally know speakers including Dr. Zinerva White, Jr. of Zin White and Associates, and neighborhood advocate Alice Coles of Cape Charles who has been featured on "60-Minutes" and other national publications. Wendy Juren of Hampton Roads station WVEC-TV and Meredith Kruse, The Virginian-Pilot newspaper were on hand to conduct a general session entitled, "Cultivating the Media Power Tool for Community Building".
The conference was well supported by Norfolk Mayor Paul Fraim and Norfolk City Council as well as a variety of sponsors including Wachovia, Housing and Urban Development, Cox Communications, Verizon, Hampton Roads Transit and Tidewater Community College.