Home Page
->
Annual Conferences
->
Previous Conferences
-> 2008 Annual Conference, Fairfax
2008 Annual Conference, Fairfax
September 18, 2008 - September 20, 2008
Fairfax County
Photos from 2008 Conference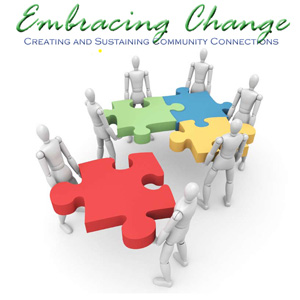 The 9th annual Virginia Statewide Neighborhood Conference (VSNC) was held on Sept. 18-20, 2008 at the Hilton McLean Tysons Corner in McLean. This was the first time the conference had ventured to Northern Virginia and Fairfax County served as the host location in partnership with Arlington County, Prince William County and the city of Manassas. Over 200 participants from all over the state had the opportunity to attend information-packed workshops; listen to thought-provoking speakers; view an array of exhibitions and take advantage of unparalleled networking opportunities with influential neighborhood advocates and professionals from across the state. Participants included an energetic youth group from Danville, civic leaders, representatives from nonprofits and local government staff involved in neighborhood development.
As a reflection of Fairfax County's diversity, the theme of the conference was "Embracing Change – Creating and Sustaining Community Connections." The conference was highlighted by keynote speeches from Professor John L. McKnight, co-director of the Asset-Based Community Development Institute at Northwestern University, and Eileen Kugler, author of "Debunking the Middle-Class Myth: Why Diverse Schools Are Good for All Kids."
Workshops on Friday and Saturday used six different tracks to follow common issues that affected most of our neighborhoods by:
Confronting the challenges of the many dimensions of diversity including aging, race and ethnicity, religious beliefs, language, and accommodating persons with physical and mental disabilities (Embracing Diversity)
Creating community identity and a "sense of place" in communities with rapid population growth; rising traffic congestion; real or perceived problems of safety; loss of open space; and decreased affordable housing.(Safe and Livable Neighborhoods)
Providing strategies, tips and skills needed to sustain involvement, leadership development and long-term action plans at the neighborhood level. (Community Leadership)
Helping local governments' staff, nonprofit organizations, faith-based groups, and businesses in Virginia to understand the importance of working together to solve complex problems and/or seize emerging opportunities. (Developing Partnerships) Promoting healthy behaviors, tools, and resources that begin at the individual, family and community level and can prevent drug/alcohol abuse, violence, crime, and diseases. (Prevention)
Learning about creative ways to prepare youth for the enduring tasks of work, community, and family life in the 21st century. (Youth Programming and Engagement)
In addition to the workshops, neighborhood leaders used Friday afternoon to network and learn about some best practices for building strong neighborhoods during an informal facilitated discussion with Professor John McKnight of Northwestern University, while local government staff joined Elizabeth and Joe LaCroix of Quality of WorkLife Consultants in a fun exercise on how we process and prioritize our work as public servants. That evening conference participants enjoyed refreshments and an inviting atmosphere at a reception sponsored by the Navy Federal Credit Union on the grounds of their beautiful campus.
The conference concluded on Saturday with the awards ceremony, a surprise tribute to Mrs. McCadden and the passing on of the banner to next year's host, Chesterfield County.